Harivihar – Brief History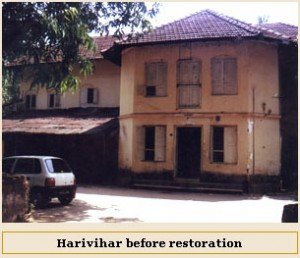 Harivihar
is a royal manor-house built around 1850 by the Kadathanad royal family, who had ruled the northern parts of Kerala. They had built the house to facilitate their children's' education, which was not easily accessible in those days.The house was built according to Vasthu principles in traditional padinijitta (west-facing) style, as was prevalent then. On the south-west side was the family temple with Durga as the presiding deity, and a large traditional pond on the north-west side with perennial water supply, was used for swimming and bathing. The house had a main block, southern wing (thekkini) and northern wing (vadakkini) and there was a central courtyard separating the two wings and the main block.
harivihar_beforeIn the late 1940s, Dr. K.P.Appu Nair, who was trying to establish his medical practice in Calicut, bought the house from the royal heirs for a sum of twenty eight thousand rupees. The house was named 'Harivihar' and he moved in with his forty-member-strong extended joint family. During those days, the matriarchal system was still prevalent among the Hindu Nair community and hence joint family living was in vogue. They continued to live there till the 1980s,when Dr. Nair and family moved into a more centrally located house in town, and the joint family system was on the wane.
Harivihar gradually fell into a sad state of neglect and dilapidation brought about by the ravages of time and nature; when in the year 2001,the present inheritors (Dr. Nair's grandchildren) decided to restore the house to its former glory. The restoration was completed in two years' time and was meticulously carried out, without in any way, altering the character or the structure of the house.
As a family-owned business, Harivihar ayurveda resort was formally opened to guests from February 2003 onwards and has ever since been receiving guests from all over the World.