Three night itinerary at Harivihar
Day one –
check in to Harivihar – with welcome drink.
Evening visit to kalari which is a short walk away.Kalari is the traditional art for of self defense, prevalent in North Kerala. Kalari holiday on Sundays. Please pay a dhakshina(donation) to the guru directly. Dinner at Harivihar.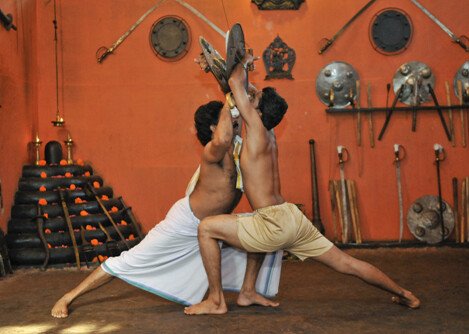 CVN Kalari Nadakkavu
Day two –
Morning 7 am to 8 am Yoga, at Harivihar .Yoga class by Gopalji, our Yoga guru from Sivananda yogasram.
After breakfast – suggested excursion – Comtrust tile factory, Puthiyara. Comtrust tile factory was initially set up by the Basel mission in the 18th century for making clay tiles. Subsequently, it was taken over by the Common wealth trust. The heritage tile factory and its environs are sure to give you nostalgia of the olden times.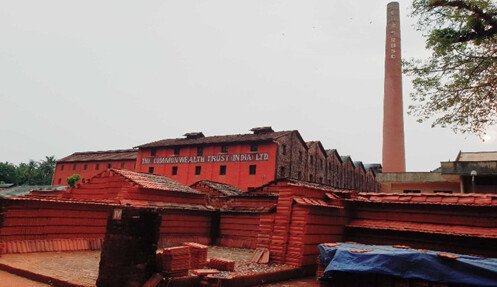 Comtrust tile factory, Puthiyara.
Then proceed to Kuttichira, which is the old part of Calicut city. Here, first visit Mishakal mosque, built in the 13th century by a wealthy Omani trader, on a land gifted to him by the Zamorins. This mosque has a unique architectural style which is not seen anywhere else in the world. From here proceed to visit the Juma Masjid and Kuttichira environs. Kuttichira is inhabited by Muslim community who still follow the matriarchal system and you pass through narrow lanes lined on both sides by old huge houses, where generations of families live under one roof.
Mishakal mosque
Next, you proceed to the Spice market popularly known as Valiangadi. It is one of the oldest markets in Kerala where the Chinese, the Arabs and later the Europeans led by the Portuguese had fought for control of the spice trade. Even today, the spice market is a scene of frantic commercial activity with porters jostling with one another to transport merchandise from the lorries to the shops and vice versa. Stroll through the small by-lanes to the Copra bazaar, where coprah, the raw material to make coir is traded. The pepper garbling yard is in a nearby lane.
Kopra bazar at Spice market Calicut
A short distance away is the Mother of God cathedral built in the 14th century by the Portuguese on land gifted by the Zamorin. It is said that Italian architects were brought to Kozhikode to design the church. This ancient shrine is a tribute to Italian know-how and the skill of Indian craftsmen. The adjoining cemetery holds old grave stones, some well preserved, like that of the first Catholic missionary of Kozhikode, Rev Perdo de Covilhany who arrived here on May 20, 1498.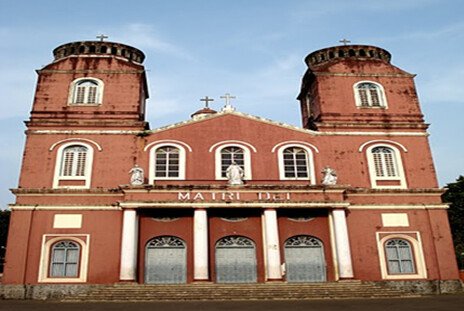 Mother of God Cathedral
Now ,it is time for lunch. You could now have lunch from a malabar muslim restaurant .We would suggest Bombay restaurant or adaminte chaykada. Or ,you could come back to Harivihar for a traditional vegetarian lunch.
After lunch, at around 2 pm, , visit the Beypore Uru making center(Sundays closed).Beypore has a 1400 year old tradition of wooden ship building by master carpenters. The construction is done under the supervision of maistrys or master carpenters who have no formal drawings. It is fascinating to watch them build the wooden ship without any modern technological help. It is customary to tip the attendant who explains you the details.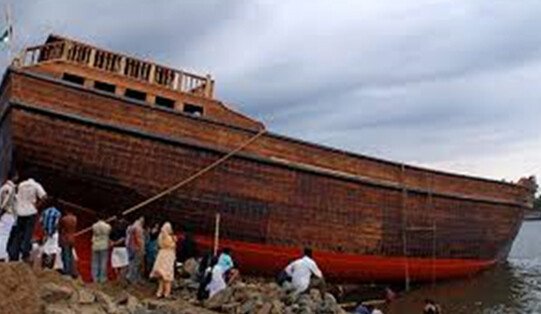 Beypore Uru
Subsequently, visit the fish landing harbor in Beypore, which is a scene of frantic activity. Watch the fishermen transport the fresh catch from their sailing dinghies to the lorries. Then proceed to visit the pier in Beypore where you can walk for a considerable distance and if lucky, could spot the dolphins at sea. Enjoy sunset views at Beypore pier.
After a full day sightseeing, proceed to Harivihar.
Dinner at Harivihar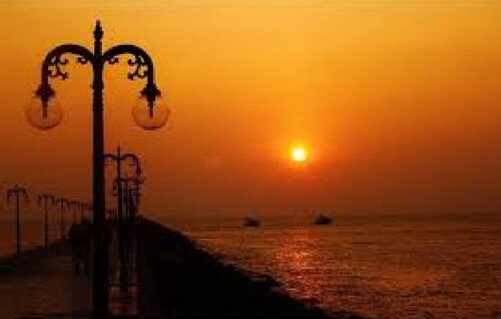 Sunset views at Beypore pier
Day three – After breakfast
Krishna menon museum and Pazhassi raja museum-two museums close to each other, having a good collection of archeological preserves dating back to the Stone Age and paintings of Raja Ravi verma.TheMuseums are located on a scenic hillock in the erstwhile residence of the British collector. The museums are closed on Mondays and public holidays.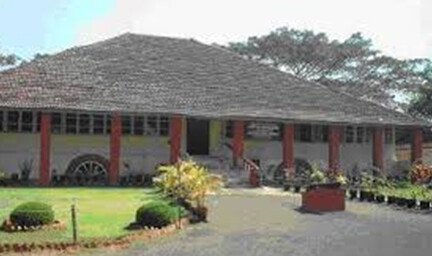 Krishna Menon Museum & Art Gallery, Kozhikode
Next, you proceed to the Taj Textiles –Taj textiles started in 1958 as a cotton loom which makes high quality cotton fabrics and furnishing material. Theyfollow the age old practices of cotton looms and it is interesting to watch them make cotton fabrics.
Now, it is time for lunch. You could now have lunch, either from Harivihar, or if you wish to explore sea food options, at the Paragon restaurant.
Taj Textiles, West hill
After lunch, at around 4 pm, visit theKappad.
Kappad beach, where Vascodegama landed in India, is a long stretch of lovely beach, 18kilometers away from Calicut. Watch the sun set over the Arabian sea. Kappad beach is suited for swimming, exceptduring the monsoons, when the sea is rough.
After a full day sightseeing , proceed to Harivihar.
Dinner at Harivihar
Day four – After breakfast, bid good bye to Harivihar!
For further details contact us at harivihar@harivihar.com OR Whats app us at +91 9847072203
Kappad Beach